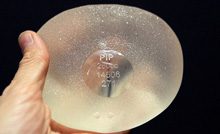 The distribution company said in a statement: "The silicone oils delivered by Brenntag are standard products for many different applications and are intended to be used in industrial applications including the Personal Care industry. The products are not for use in breast implants.
"In line with our process standards Brenntag customers are provided with safety data sheets and specifications on all necessary information. We confirmed in our order acknowledgements the exclusive industrial use of the products (including Personal Care).
"Furthermore Brenntag advises customers to verify if the delivered products are suitable and appropriate to the customer's product requirements."
Brenntag said it had fully answered inquiries from the French authorities (Afssaps) in April 2010. Since then there were no further inquiries. "Should we be required, Brenntag is committed to provide all necessary information to the authorities," the company continued. "Brenntag is clearly aware and deeply concerned about the recent developments and continues to provide any possible support in this matter."
The implants from PIP were banned last year after they were found to contain a non-medical-grade silicone filler. In December 2011, French authorities recommended that 30,000 women have faulty breast implants removed as a precaution.
Last week the UK government reaffirmed its view that the implants, which 40,000 UK women have, did not require routine removal.