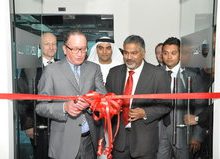 By opening a new support base for the worldwide network again Leschaco further broadens its presence within the market. With customer oriented individual logistics solutions in seafreight, airfreight, contract logistics and tank container operations Leschaco offers its customers the whole range of services within the logistics spectrum.
The Middle East region is managed by Shamsudeen Ahmed, a veteran with over 30 years experience in the logistics industry within Middle East< supported by a dynamic team for sales and operations.
This is a major step in building Leschaco's global footprint by opening our own operation office in Dubai. Dubai being a well-recognized hub for the region will add great value to our network and customers", said the Mr. Joerg Conrad, owner of the Leschaco Group.
"This young team, which already boasts of over 100 years of combined professional experience in the region, is optimistic that they will make a positive impact in this market soon. I am very confident about that", added the Managing Director Mr. Shamsudeen Ahmed.