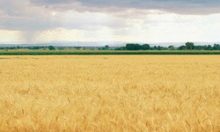 "We are very pleased that Cargill, as a forward-looking company in the western Canadian grain industry, has become the CWB's first handling partner," said CWB President and Chief Executive Officer Ian White.  "We can now move ahead to provide farmers with an exciting package of programs they can use with confidence in this new era."
Cargill also believes that entering into this agreement with the CWB will better assist Western Canadian growers in moving forward with their grain marketing decisions.  By offering diverse pricing options, including Cargill and CWB alternatives, farmers can fit grain marketing and risk management products to their individual requirements.
"Every grower's needs are unique, which is why Cargill offers a broad range of grain marketing and risk management solutions," said Peter Rowe, vice president , Merchandising and Transportation, Cargill Limited. "The addition of the CWB's marketing programs, including the CWB pool, expand those options even further".
Cargill began contracting wheat for delivery after August 1, 2012 as of December 21, 2011.  The company will continue to contract wheat, durum and barley for its own account as well as CWB grains according to customer preferences.