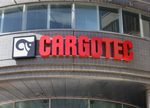 Cargotec's Australian team will provide maintenance support to the equipment with spare parts supplied direct from its regional parts warehouse in Melbourne.
This latest order of 50-tonne capacity ESC 350W straddle carrier models continues a longstanding partnership between the two companies. Cargotec's team in Australia has provided over 120 Kalmar straddle carriers to Patrick container terminals over a period of 28 years. In total there are currently 108 units in operation across Patrick's sites in Brisbane, Sydney and Melbourne which combine to handle approximately 3.5 million TEUs per year.
Systems based on Kalmar straddle carriers such as the ESC 350W represent the fastest options for medium-size terminals handling between 100,000 and 4,000,000 TEU. Kalmar straddle carrier's 7+ generation models combine high performance and productivity with low maintenance and operating costs. Designed with operators in mind, they deliver strong environmental benefits which can be further enhanced with hybrid operation and can provide users with industry leading automation options – as demonstrated at Patrick's state of the art Brisbane terminal where 27 fully automated Kalmar EDRIVE straddle carrier variants operate.