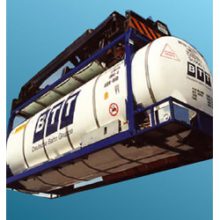 Speaking to Bulk Distributor EbroTank managing director Jon Echegaray explained that the idea behind the filing is "to ensure the survival of the company because we envisaged several difficult months ahead and wanted to prevent falling in a downwards spiral of de facto insolvency. Actually, the insolvency has been a complete surprise for everybody, as until that moment the company had met punctually all its payments."
The filing under Spanish law is similar to America's Chapter 11. The situation was caused by poor results in the past two years of operation, due to the drastic fall in demand in the Spanish market. EbroTank has been working hard to find new opportunities in emerging markets, notably the BRIC countries, and has even raised the proportion of its production going to export from its original 60 percent. However, this has not compensated for the very weak demand in its domestic market.
"The file was applied on time to prevent undesirable consequences and it was prepared with the help of our legal and business advisors. This has ensured that at present we have enough liquidity to face comfortably all our future payments in due time," he added. Echegaray also emphasised that one of the most important conditions of the insolvency declaration is that the company has to meet punctually all its payments after the insolvency. This is ensured by the Court Administrator, who approves all payment commitments only after having made sure that the company will be able to meet them. Payments corresponding to credits dated before the insolvency declaration are the only ones put on hold, while all others must be met.
The vast majority of the credits correspond to bank loans, with suppliers being very little affected, Echegaray continued.
"As a consequence of the above actions and collaboration of our business partners and employees, at present we have a healthy order book, with personnel having to work overtime. Also, the mix of orders includes a much higher percentage of new products and new geographical markets than before. In short, it is 'business as usual'."
A fuller report appears in the Bulk Distributor March/April print edition.