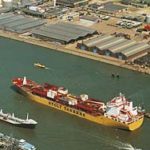 The ship is under tow approximately 45 miles off the coast of Qatar.  There has been no spillage of fuel oil from the ship, nor any reported or visible spillage of cargo.  Stolt Tankers continues to work in close cooperation with the authorities, salvage experts and insurers to salvage the ship and its cargoes and to avoid any environmental impact.
Full investigations into the cause of the accident are being conducted by the flag state and the Company.
MT Stolt Valor is a 2004-built chemical tanker of 25,268 dwt.  The ship has been declared a constructive total loss for insurance purposes.  The Company has insurance coverage in place customary for the trade and is fully covered.