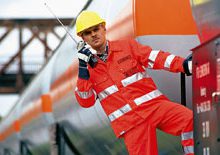 Revenue amounted to €303.9 million, up 7.2 percent on the previous year. EBITDA increased by 7.7 percent to €156.5 million. The EBITDA margin related to revenue, at 51.5 percent, showed a slight improvement on 2010 of 0.3 percentage points. In the financial year 2011, the Railcar Division performed at a high level in almost every segment, the company said. Fleet utilisation increased steadily over the year, reaching its highest level of 91.5 percent for the year on 31 December 2011.
For tank container logistics, 2011 began with a significant rise in demand for transport services. However, demand fell off slightly in the third quarter, stabilising in the final quarter. The reason for this was the growing uncertainty about future developments in the markets relevant for the chemical industry. The division reported good performance in the intra-European transport market. For overseas transports, however, the picture was mixed: whereas North American and European export transports increased in the year under review, traffic within Asia and exports from Asia declined slightly.
For the whole VTG group, revenue rose by 19.2 percent on 2010, reaching €750 million. EBITDA also developed positively, increasing by 9.3 percent on the previous year to €168.7 million. This was in the upper half of the range forecasted by VTG.