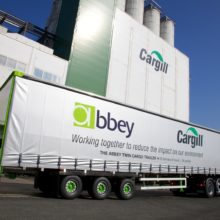 The vehicle – half tanker, half trailer – will enable Abbey Logistics to transport liquid foodstuffs to customers across the country and carry palletised goods on the return journey.
The innovation has the potential to end the practice of tankers making return trips empty as both journeys are productive. It is predicted to reduce empty road miles by 90 percent, while the extra revenue earned from delivering the palletised goods will result in substantial cost savings.
The trailers enable 25 tonnes of liquid to be carried in the bottom half of the vehicle, with 25 tonnes of palletised goods being transported on top. Steve Granite, managing director of Abbey Logistics, said: "We are really excited about this development which will enable us to minimise empty mileage, lower carbon emissions and reduce costs to remain competitive. We are always looking at ways to reduce our impact on the environment and this will go a long way towards to building our company sustainably."
The first two trailers built are for the sole use of Cargill, with more planned in the future. The company, named 'Haulier of the Year' in the 2010 Motor Transport Awards, is headquartered in Brasenose Road, Bootle, with a base on the Knowsley Industrial Park.
It operates one of the largest privately owned tanker fleets in the UK, running 300 trailers and 200 trucks. It initially specialised in bulk liquid foodstuffs, but has since expanded into other complimentary logistics sectors including bulk powder transport, palletised transport and warehousing.