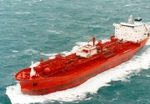 These generation vessel are of 82,000 DWT, length 229 meters, with modern fuel saving technologies and latest equipment to operate environment friendly. These vessels are expected to be delivered during 2013-2014.
The Bahri Dry Bulk is a joint venture company: 60% owned by The National Shipping Company of Saudi Arabia (BAHRI) and 40% by The Arabian Agricultural Services Company (ARASCO). ARASCO is the largest bulk importer into the region and has know-how and experience in grain commodities imports.
Engr. Saleh Al-Jasser, CEO of Bahri mentioned that, the addition of this activity is a part of the company's strategy to expand its businesses which presently include (Transportation of Oil & gas, Chemicals, General Cargo and Complete Logistics Services).
The company also unveiled its new identity (BAHRI) on Sunday 15th April, 2012. The occasion was celebrated at Ritz Carlton, Riyadh which was attended by several VIPs, Key Clients, business partners and employees.
To know more about (BAHRI), please visit www.bahri.sa