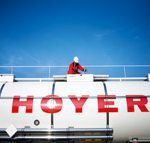 "IBCs are already well established in France", explains Gilles Lemaitre (54), HOYER's new Area Sales Manager in Lyon. However, until now the IBC business here has been limited to rentals. "HOYER, by contrast, can in addition perform the entire logistics involved and, as part of its fleet management service, it also looks after the operation of customer-owned IBCs", Lemaitre points out. "Which means: we combine high-quality transport with economy – all from a single source."
The portfolio of services also covers all workshop operations, including the legally required follow-up examinations and cleaning. The latter can be done at HOYER's depot in Rouen, which has a modern, high-throughput washing facility. "Our full-service offer means that customers can lower their logistics overheads substantially," says Lemaitre in describing the HOYER business model. In his new position, the HOYER manager will be drawing on his extensive experience in the packaging industry for the food, chemical and pharmaceutical sectors.
HOYER leads the field in the European IBC market, with a total of 20,000 units. HOYER's own IBC fleet consists mainly of standardised types. These intermediate bulk containers with a capacity of between 500 and 1,000 litres are used to transport and store liquid products. They can be provided with special coatings and heating systems, and they can be licensed for use with hazardous products. They are used, strictly separately, to transport chemicals and food.