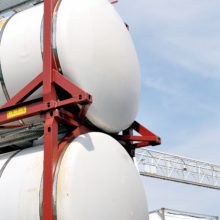 "Germany's top-notch infrastructure and its position at the center of Europe make it a key logistics destination. Our ports, airports, highways and railways are used to serve over 500 million consumers across Europe as well as markets in Asia," said David Chasdi, logistics expert at Germany Trade & Invest in Berlin.
German ports are one key piece of the puzzle. Hamburg's container traffic jumped 14 percent last year, recapturing the number two spot in Europe. The North Sea port of Bremerhaven also claimed the top European spot for shipping of automobiles. Over 2.1 million cars passed through this port, destined for overseas markets that favor German quality.
This year, companies have invested in new logistics facilities in Germany: Penske Logistics recently inaugurated a new office in Dusseldorf to deliver logistics services to companies in the automotive, healthcare, manufacturing, and chemical sectors. Amazon will open two new facilities this year and Swiss logistics giant Kuehne + Nagel broke ground on its massive facility in Duisburg, the world's largest inland port.