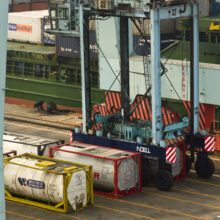 According to Capital Business Credit's (CBC) Global Retail Manufacturers and Importers Survey, 50 percent of U.S.-based importers have moved some of their manufacturing outside of China and a third (34.2 percent) are considering moving manufacturing outside of the continent.
"While China will continue to be the dominant player when it comes to the manufacturing of goods sold in the U.S. there is an interesting shift that is occurring," said Andrew Tananbaum, executive chairman of Capital Business Credit.  "The lending environment combined with a number of other factors including cost of labor, raw materials and logistics have made manufacturing in other countries – most importantly the U.S. – more attractive.  As the American economy continues to recover, and retail sales continue to improve, the manufacturer/importer relationship will be critical in ensuring that enough goods are made and shipped to keep store shelves stocked."
When asked which countries manufacturing is being moved to, Vietnam was most popular at 33.3 percent and the U.S. was also cited as a top choice at 27.8 percent.  Other countries that are popular manufacturing destinations include Pakistan (22.2 percent) and Bangladesh (16.7 percent).
Tananbaum continued, "At CBC, we've developed financial programs to help U.S.-based importers to work more efficiently and effectively with their Chinese and other international suppliers. Our Supplier Early Payment Program provides the financing that SMEs on both sides of the Pacific need but can't necessarily attain from a bank due to their size and current lending restrictions."
The Global Retail Manufacturers and Importers Survey, conducted by Capital Business Credit (CBC) (www.capitalbusinesscredit.com), polled more than 50 manufacturers and importers.  The survey was conducted during the week of February 27, 2012.  Respondents consisted of manufacturers and importers in the apparel, housewares, home furnishings, fashion accessories and furniture industries.