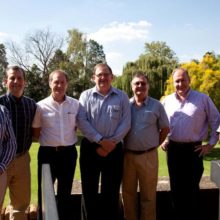 "Ecosse Tankers has thoroughly succeeded in a challenging industry environment. We look forward to leveraging existing expertise as well as an ample client base in making a mark in the chemical, fuels and hazardous goods industries," said Ford.
Said former Ecosse owners Dugal Sharp and Donald Mackenzie, "Our new role within the Barloworld Logistics structure is that of assisting initial operational integration and then to drive the growth strategy in the chemical transportation sector using current customer relationships and know-how."
Ecosse Tankers has recently renewed a five-year contract with one of its largest customers. The company was incorporated in 1998 and started operating in 1999. Today it is an established specialised transporter in hazardous acid-based chemicals.
Caption Barloworld pic
From left to right: Christopher Wierenga (Barloworld Automotive), Francois van Rensburg (Barloworld Logistics); Donald Mackenzie (Ecosse Tankers); Rory Sterley (Barloworld Logistics); Dugal Sharp (Ecosse Tankers); Steve Ford (Chief Executive Barloworld Logistics); Dries Pretorius (Barloworld Logistics)