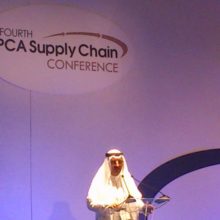 The secretary closed it off with thanks to all of the distinguished speakers and to the many delegates that attended from the Gulf and from the rest of the world, of whom made up just over 20% of the seats this year, showing that the GPCA is a far reaching association. Established in March 2006 to support growth and sustainable development of the petrochemical and chemical industries, members have increased from 8 to 178 in recent years. It is the Gulf's sole trade association, respected and recognized as the collective voice of the petrochemicals and chemicals industries on regional and international issues of common interest.
The conference has been an interesting one to say the least. Many methods and ideas have been discussed, fundamentally surrounding the supply chain and its challenges.
"We cannot wait for orders, the lead time is far to long, 30 days plus. We have to plan and forecast the volume our customers require to reduce lead-time and improve the level of service to our customers. This, is the difficult part" quotes Reinhard Fischer, Logistics Manager from TASNEE. This was one of many concerns raised over the 2 days.
"There is change in our customers, they are becoming more educated, there is demand for quicker delivery of products. Look at Amazon, you have exact times when your product will be delivered depending on the cost of postage, this I believe is the future of logistics" quotes Eric Herman, CEO – Logistics Business of CWT.
Dubai is currently experiencing rapid economic growth, its percentage figures are in the double digits compared to the global single digit growth. In discussing sustaining this whilst looking to further improve, Hamad Al Terkait, the Former Vice Chairman of the GPCA and Ex President and CEO of EQUATE Petrochemical says, "Although these are exciting times, they are challenging times."
"Dubai and our neighboring regions such as Abu Dhabi need to work together if they are to sustain the predicted growth, places like India are being held back due to not having the ability to cope with the capacity at the ports, effecting them on the global market" says a senior representative of the site at Jebel Ali Port, Dubai's primary industry port.
 "We need to work together to succeed with growth. End to end supply chain is must", concludes the Secretary General.
For more information on speakers at the event please visit http://gpcasupplychain.com/program/