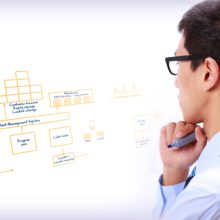 InterBulk's growth strategy clearly identifies China as a major opportunity, given the country's rapidly growing chemical production. In recent years InterBulk has co-operated with leading Chinese logistics service provider Sinotrans on a number of domestic chemical logistics projects. Combining both parties' strengths was a successful move. This was also confirmed last year by Sinotrans taking a stake in InterBulk. The partnership greatly strengthens the company in developing the Chinese and wider Asian markets.
PP client
SE Asia's largest polypropylene manufacturer first adopted InterBulk's intermodal distribution concept into its domestic supply chain in 2009. The fully integrated 'silo to silo' transport service involves three main stages: firstly, InterBulk supplies specially-designed 20ft top-loading containers to facilitate loading in bulk at the customer's plant in Rayong. Secondly, a 'load and hold' concept is introduced meaning that the containers loaded with PP are placed into storage at InterBulk's container terminal until required for delivery to the client's customers. Finally, InterBulk's silo-to-silo service provides for pneumatic discharge of the PP to the customer's receiving silo via InterBulk-owned specialist self-discharging trailers fitted with hydraulically-operated rams for tipping plus a compressor and rotary valve for discharge.
The concept has proved to be successful with customers who saw a number of benefits:
•        Reduction in distribution and overhead costs – packaging, pallets, labour, transport, delivery, etc.
•        Reduced risk of contamination, eliminating double handling of product and thereby improving product quality
•        For the client's customers direct delivery into the silo offers a commercial advantage, eg, no decanting, bag splitting, storage, etc.
•        Cost-effective, safe and environmentally-friendly transport
•        Customer retention for clients via the integrated supply chain
•        Flexibility for client customers' delivery requirements
•        InterBulk focuses on the logistics allowing clients to concentrate on their core activities
Pioneered by InterBulk in Europe, the InterBulk owned container is said to be the ideal tool for distribution in bulk, and in May 2012 InterBulk introduced the InterBulk containers into the Thai domestic market for use by their clients. Whilst the distribution concept remains the same, the client can expect to gain from a payload increase of over 30% which will add further value to their domestic supply chains.
Intermodal in India
InterBulk has developed control mechanisms to ensure safe and JIT deliveries, coping with India's challenging infrastructure. It implemented an effective interchange procedure along the Indian supply chain to ensure good condition of equipment and that any damages or missing parts can be immediately identified to the responsible party. In order to service the business and to ensure continuity of supply, InterBulk maintains a strategic stock of equipment at an inland container depot (ICD) close to Delhi.
An additional resource is added via InterBulk's Indian partner's office, for local operational control, maintaining daily contact and regular meetings/reviews with the supplier.
For one of InterBulk's' clients – an Indian chemical producer – InterBulk handles tank container operations within the country and between India and Europe. The actual client is based in the UK; however, the group also works closely together with its supplier in India. InterBulk cleans and prepares the containers, holding them at a local ICD until 'call off' by the chemical supplier for loading. Then the whole process starts: moving from depot to loading point and back to Delhi by truck and then by rail to Mumbai. From here the tanks are moved to the seaport for shipment from port of Nhava Sheva to the UK. InterBulk takes care of all local and equipment control operations. A surveyor is on standby for technical issues.
Storage and transport for Bayer in China
Bayer MaterialScience recently installed InterBulk's ISO-Silo at its Bayer integrated site Shanghai in Caojing, China. The deal has helped Bayer MaterialScience to transform its dry storage operations from bags to bulk – completely eliminating the need for a packaging plant and expensive fixed infrastructures.
The ISO-Silo is both a storage silo and a pneumatic transfer system rolled into one. The flexible design ensures swift mobilisation and demobilisation without the need for major installation.
It was easy and quick to install: no foundations or planning consent were required and the system could be integrated within Bayer's existing facility. Transporting the ISO-Silo is safe and easy as it is built in a standard ISO frame, and the pre-cast concrete base in two sections secures the unit in place, allowing transport by conventional road trailers. This enables robust, rapid and easy deployment between Bayer sites.
The InterBulk Group will be present at the 5th International Exhibition for Transport Logistics China (TLC) 5–7 June 2012 in Shanghai.
www.interbulkgroup.com