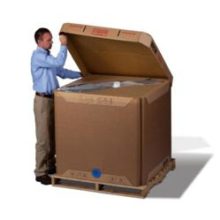 The International Safe Transit Association (ISTA) is a global alliance of shippers, carriers, suppliers, testing laboratories, and educational and research institutions focused on the specific concerns of transport packaging.
The ISTA 1H testing protocol is designed to provide a laboratory simulation of the general damage-producing motions, forces, conditions, and sequences of transport environments across broad sets of circumstances, such as a variety of vehicle types and routes, or a varying number of handling exposures.
The new 275 capacity PaperIBC is designed to fit on a standard 48" X 40" Grocery Manufacturers Association (GMA) pallet and is the only corrugated IBC in this size on the market to pass this test.
Grayling Industries is a North American manufacturer of specialized flexible film products for industrial applications. Markets served are industrial packaging and environmental safety. Primary products are intermediate bulk containers and liners and products for contamination control on asbestos abatement projects. Brands include; Guardian™ IBC container liners for liquid and dry applications, PaperIBC™ containers and Avail™ glovebags, Control™ chemicals, D-Con™