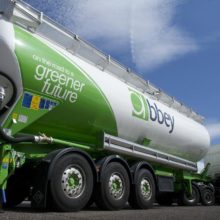 The contract is worth more than €1.5m over the contract term and Abbey says it represents a further significant step forward for the bulk powder division since the takeover of RH Stevens Tankers/Macclesfield Transport in August 2011. Since that takeover Abbey has grown its powder transport division 140 percent and taken it from a UK operation to a European service.
The growth has come as a result of the investment made by Abbey to improve standards and equipment, along with the service provided by the its 'industry leading' team.
Dave Coulson, commercial director for Abbey, said: "As previously announced in March 2012 we won a good volume of work with Tereos Syral on our European liquid fleet and we are delighted now to be carrying out bulk powder transport as well. Our fleet in all three divisions (liquid, powder and palletised) is developing nicely in line with the strategy set in 2010 and we are on course to achieve our objectives. We are looking forward to working with Tereos Syral to build our relationship and provide excellent levels of service."
Abbey now operates 210 trucks and 270 trailers across 10 UK sites and three operating divisions.
In addition, a well-attended awards ceremony in Liverpool's Anglican Cathedral saw Abbey named Liverpool Daily Post 'Green Business of the year' 2012.
The award recognised local businesses that had made a beneficial impact on the environment. It was an intense judging process with judges visiting the short-listed companies to gain a deeper insight into the submissions made. A short video was also shown on the night for each short-listed business promoting the work they had carried out.
Abbey was named Motor Transport Haulier of the Year in 2010 and this latest award will be a welcome addition to the trophy cabinet and recognition that their slogan 'on the road to a greener future' is more than just words.
The award was clinched by highlights, such as the strong environmental KPI data which is published quarterly on the company's website, along with the revolutionary Twin Cargo Trailer which was recently launched for Abbey's largest customer Cargill plc in Manchester.