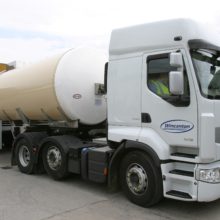 The renewal with Dairy Crest, which has brands including Cathedral City, Country Life, Clover and Frijj, will run until 2015, by which time Wincanton will have been the company's delivery partner for 21 years.
Key to Wincanton's long-running association with the dairy company has been its commitment to providing continuous efficiencies through expertise and innovation, according to Dairy Crest's Group milk procurement director Mike Sheldon.
"Wincanton is a proven partner which time and again delivers efficiencies, underlining their determination to not only provide an excellent service, but also to have a measurable positive impact on our operations," he said.
"Dairy Crest has a long and proud tradition in the UK dairy industry supporting rural communities, making collections easier and more efficient for farmers, and looking at ways to reduce our operations' impact on the environment. Wincanton was able to demonstrate clearly how it could help us sustain and build on this commitment."
The three-year renewal will see Wincanton use 100 vehicles and approximately 230 drivers collecting milk from over 600 farms across the South of England and Wales and delivering it to four of Dairy Crest major dairies.
Chris Kingshott, Wincanton's managing director, said: "We started our partnership with Dairy Crest in 1994, with a shared commitment to a sustainable UK dairy sector. Indeed Wincanton's experience in the industry dates even further back to 1925, so we share a real heritage with Dairy Crest.
"I am delighted that they have chosen to renew and extend our long-standing partnership and I look forward to the challenge of delivering continuous improvement with sustainability at the heart of our operations."