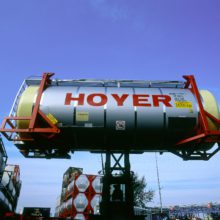 Hamburg-based Hoyer achieved sales of more than €1 billion in its latest business year for the first time, making 2011 the most successful year in the firm's 60-plus year history. Compared with 2010, turnover has risen by 5 percent to a €1,035 million.
"This trend makes it clear that we did our homework properly – and at the right time," said Thomas Hoyer, chairman of the group's advisory board, summarising the past financial year.
The company made its biggest strides in sales in European intermodal and road freight in the chemicals branch (up by 9 percent) and intercontinental chemical transport (up by 8 percent). Turnover in logistics business for liquid foodstuffs up by 7 percent also did better than average growth in the group. Together these business activities account for more than 50 percent of group turnover.
Thanks to strong expansion in the volume of chemicals and foodstuff transport for the growth regions of Asia, India and Middle East, sales of the deepsea business unit area of overseas activities rose by eight percent in 2011.
Return on sales also showed an increase to 3.6 percent (previous year: 2.7 percent), while the equity ratio rose to 40 percent and the internal bank rating improved. This was due to an improvement in operating margins thanks to profitable new business and reinforcement of the company's own international network. Capital investment amounting to €40 million was financed wholly from operational cash flow. Surplus cash flow was deployed to further reduce bank liabilities, which dropped by €18 million to €92 million.
Continued expansion in Eastern Europe is central to the positive trend in operating business. The region has formed part of Hoyer's network since the beginning of the 1990s. The newest addition to the network is the St Petersburg (Russia) office, opened in March 2012. A little earlier Hoyer had set up subsidiaries in Russia and Ukraine, as well as its own offices in Moscow and Odessa.
The Hamburg-based group also announced that its developing Supply Chain Solutions (SCS) activities have made it necessary to fill three strategically important posts from within its own corporate workforce. SCS is part of the successful Chemilog business unit, which unites all European chemicals movements. Hoyer also expects profitable growth here to continue.
Thus, Tom Krützfeldt (34), a long-standing Hoyer employee, is taking up the position of operations manager for the SCS business as of 1 August, 2012. He will report directly to Ulrich Grätz, SCS director. Krützfeldt's previous position as operations manager for Hoyer's Hamburg and Schkopau locations, where he was able to expand his wide knowledge of logistics in managing a variety of projects within the Hoyer Group, is being taken over by Matthias Krohn (47). He was previously fleet manager for Hoyer, but had already successfully deputised for Krützfeldt on a project in 2011.
Krohn's position will be filled by Thomas Steinlein (43) who was manager of road continent operations until now. Steinlein is also responsible for the truck fleets in Austria and Poland. He combines operations experience, entrepreneurial commitment and assertiveness, which mean he is cut out for the job.