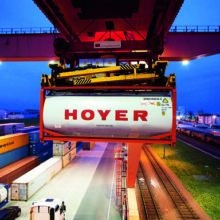 Starting from 1 August 2012, Hoyer will be transport and logistics provider for Aral filling station supply in Hamburg, Schleswig-Holstein, Lower Saxony and Bremen. This is the result of the latest BP tender. This underpins Hoyer's business relationship with BP Europe SE/Aral. Hoyer has been supplying filling stations all over eastern and western Germany for the past ten years.
This is being taken as an opportunity to renew all the vehicle fleet's equipment. In addition another 44 vehicles will join. Half of them are already being given Aral livery as well as Hoyer or neutral branding. In future Hoyer will be running a total 115 truck trailers, each with up to eight chambers, to supply the Aral network. The company is investing EUR 12m in new vehicles and also creating an additional 140 jobs for drivers.
Overall Hoyer will be looking after 1,456 Aral petrol stations, of which 881 are located in eastern and western parts of Germany and 575 in the newly acquired region.