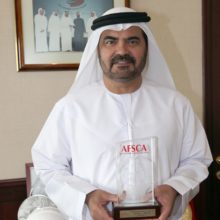 On behalf of DP World, UAE Region, Kris Chang, Managing Director, DP World – China, received the prestigious award, at a glittering ceremony in Shanghai, China attended by more than 400 top executives from the Asian supply chain industry.
The AFSCA award selection involves key decision makers in the industry who take part in an independently verified process comprising a nomination round and a voting round. The winners are chosen by thousands of readers of Cargonews Asia voting for the best-performing companies across a number of categories.
Jebel Ali Port was cited for sustained excellence through innovative, technology-driven initiatives focussed on improving supply chain efficiency for customers and responding to their changing needs.
Mohammed Al Muallem, Senior Vice President and Managing Director, DP World, UAE Region, said:
"Winning at AFSCA is always special for us because of the tough criteria employed to judge port performance. The 18thsuccessive award reaffirms Jebel Ali Port's premier position in the Middle East. It is a tribute to our hard-working employees and our ability to deliver the best possible service to our customers. We dedicate this award to all those who made it possible for us to sustain our performance excellence."
Established in 1987, AFSCA is Asia's longest-running awards event. The prestigious award is of 18 categories which covers air and sea ports, air cargo and container awards, along with Best Green Service Providers.