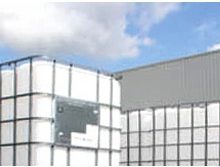 Through this investment, MAUSER is not only able to better supply its services and products in Poland, but also in other Central and Eastern European (CEE) countries such as the Czech Republic, Slovakia, Hungary, Romania, Bulgaria, Ukraine, Belarus and the Baltic countries. At its new plant in Gliwice, Poland, MAUSER will produce UN and non-UN Intermediate Bulk Containers (IBC) including the MAUSER SM6, SM13 and SM15 solutions for hazardous and sensitive filling goods. Additionally, MAUSER will produce UN-approved 120- and 150-liter open top drums as well as 220-liter L-Ring drums. Customers also benefit from the reconditioning services of the MAUSER subsidiary National Container Group (NCG). Thus, MAUSER offers a full-cycle service to its customers, and professionally manages the entire life cycle of plastic packaging in order to help customers combine economy with ecology. The opening is planned for mid-June.
"Expanding our activities in Eastern Europe is a major strategic step for us in the market. Especially, as we see a growing economic impact of Poland for the packaging industry with an increasing demand for reliable packaging solutions," says Dr. Juergen Scherer, SBU Manager Europe at MAUSER Group. "Until now, we served our customers in the Polish market through our plants in Germany. This new plant enables us to be even closer to our customers in the region and it is furthermore in line with MAUSER's sustainability initiative."
The new plant is located in the area of Silesia, which is an important business hub in Poland. This allows MAUSER to supply its local and international customers in the chemical, petrochemical, oil and lubricant, agricultural, pharmaceutical as well as food and beverage industries more efficiently.