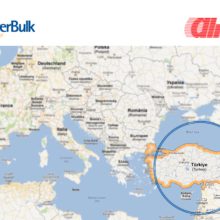 The appointment of Alisan signals InterBulk's immediate and long term strategy to develop further its liquid and dry bulk activities in Turkey together with the local partner. Alisan Group is an established and well respected family-owned logistics organisation, with strong connections with the Turkish chemical industry. The group has 800 employees, storage and warehousing facilities (liquid and dry) in various locations, and an owned trucking fleet.
Meanwhile InterBulk posted revenues of £141.3 million for the first half of the 2012 financial year, 3 percent below the corresponding figure for last year. The company attributed the result to "weak market conditions in the first quarter 2011-12, although a good recovery was achieved in the second quarter". The Dry Bulk division saw a continuation of the strong recovery trend from the prior period, while the Liquid Bulk division was impacted by the economic conditions
The effect on operating profit, which was £0.9 million behind the prior period, was offset by a £1.3 million reduction in interest expense (a direct result of the deleverage achieved in the second half of last year) leading to a profit before tax of £2.5 million, 19 percent ahead of the same period last year
Profit after tax was up by 43 percent although earnings per share were reduced due to the enlarged equity base.
Koert van Wissen, InterBulk CEO, said a landmark deal was executed in Russia with the signing of a 10 year on-site service contract with Sibur, a leading petrochemical and plastics producer. At the same time: "Our alliance partner in China, Sinotrans, has completed the consolidation of its chemical logistics activities into one subsidiary of its business and this provides an interface for effective collaboration. We are further expanding our fleet to take advantage of the growing opportunities in Asia."