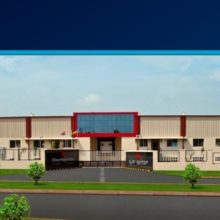 The new facility comprises a greater surface area than the previous facility and provides an enhanced level of cleanliness, using many features used by clean-room facilities, in addition to be being registered to ISO 9001 and ISO 22000. The new facility is also said to provide double the level of production, using "enhanced cost-saving techniques".
During a recent visit to the site, Wido Waelput, LinerTech's global managing director – dry bulk, and Meirion Lewis, global business manager, were called on to open the new premises by cutting a ribbon and planting a tree.
LinerTech produces bulk liners for use inside intermodal containers. In India, the company's products are manufactured by Prime Progression which has the marketing rights of LinerTech Container Liners in the Indian Subcontinent, Australia and New Zealand.