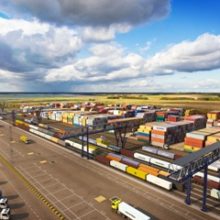 The port currently operates two open-access, common-user rail terminals and an all-new third rail terminal has been under construction since March 2012. Co-financed by the European Union from the Trans-European Network budget, the new North Rail Terminal is designed to handle 30-wagon long freight trains, each capable of carrying 90 TEU (twenty foot equivalent containers).
The port already moves 750,000 TEU per year by rail and the new terminal will eventually more than double its capacity for intermodal traffic.
David Gledhill, Chief Executive Officer of Hutchison Ports (UK) Limited (HPUK), which owns the Port of Felixstowe, commented:
"These record-breaking volumes have come at a fundamental time, as the government considers the upgrades to the rail network it will procure over the next five years. Whilst a number of works on the Felixstowe to Nuneaton connection have already been completed, these record figures highlight the importance of a strong rail network nationwide, as rail freight becomes an ever more popular method of goods movement.
"The Port of Felixstowe has a unique rail offering, with more trains to more destinations more often than any other UK port. These volumes highlight customer confidence in the rail facilities at Felixstowe, consolidating our position as the port-of-choice for UK importers, and justifying beyond question both the investments we have been making, and those required in the future, to improve still further the choice and frequency of the rail services available to all our customers."
Rail freight services at Felixstowe are offered by Freightliner, GB Railfreight and DB Schenker. Daily connections are available to and from Glasgow, Manchester, Liverpool, Leeds, Cleveland, Birmingham, Doncaster, Tilbury, Selby, Hams Hall, Wakefield, Ditton (Widnes), Birch Coppice, Scunthorpe and Bristol.