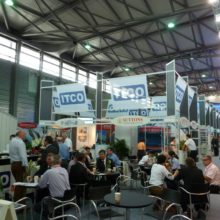 China is rapidly becoming one of the world's leading centres for production and distribution of chemicals, having seen this sector start from almost zero two decades ago. In tandem with this industrial growth, the use of tank containers is also expected to witness significant change, replacing of more traditional distribution equipment such as plastic drums.
A seminar on Day 2 of the event highlighted the possibilities for tank container manufacturers, operators and service providers in the China market with presentations from Patrick Hicks, secretary of the International Tank Container Organisation (ITCO), Heike Clausen, managing director, VOTG and vice-president, ITCO, Guan Xiaodong, vice general manager, China Rail Tielong Container Logistics, and Leonard Yang, assistant general manager of CIMC Enric. A fuller report of the seminar will appear in the next issue of Bulk Distributor. Following the seminar, CIMC Enric sponsored and hosted a reception for exhibitors and their guests in the ITCO Tank Container Village.
Outside the exhibition halls UK group Suttons once again demonstrated its demonstration tank container which allows visitors to walk inside and on top of the unit to get a closer impression of how a tank container is constructed.