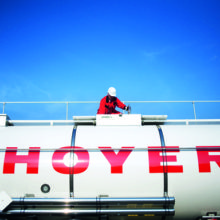 GFE was set up in 2009 by 30 well-known companies in industry, trade and services to improve sustainability in transport logistics and to work jointly towards a reduction in CO² emissions. To do this they plan to work in close cooperation with European governments and the EU.
GFE's primary current focus is on cutting CO² pollution from road haulage, since about 75 per cent of European freight volume can be attributed to truck transport. A second phase in the initiative's programme will include multimodal transport. At the annual GFE meeting in Brussels on 29 June, Hoyer made clear that it plans to support the multimodal projects in coming years.
Emissions throughout the entire haulage network – as well as internationally – will be evaluated and monitored by GFE using state-of-the-art software. To do so, an online platform managed by the international cargo organisations European Shippers Council (ESC) and Dutch Shippers Council (EVO) will be used to gauge and analyse CO² emissions of members and their subcontractors. Clients can find out about their CO² footprints when they purchase products or services from members of the GFE initiative.
The platform's object is to promote innovation, to encourage exchanges between individual members and to provide information about improvements in sustainability in European road haulage.