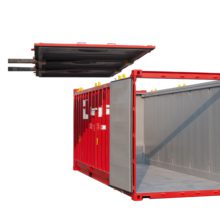 The company has produced the 20ft Hard Open Top Bulk Container to meet the requirements of the mining industry that has to transport heavy, sticky, and sharp product.
The container's flat walls are made of special steel which is three times stronger than normal Corten steel. They are painted with a coating that endures the demanding nature of ores or scrap. Due to the flush walls the container is easily emptied when unloading and there is no need for manual removing of cargo residues.
The container's hard open top roof makes loading fast for wheel loaders and the normal bulk hatches on the roof are suitable for silo loading. All the details are designed bearing in mind the nature of the transported products. Shields of the roof's locking mechanism work as guide posts for the roof and the forklift pockets under the roof make it possible to handle the roof easily with a forklift.