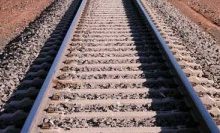 Zhang Dejiang, Chinese vice premier and the secretary of the CPC Chongqing Municipal Committee on July 8 required Liangjiang New Area to continue to open wider, give full play to the functions of airport, water port, rail port and bonded port and research the new method for the opening the economy in inland China.
The present minimum freight is 8,900 US dollars per container for an international train on the Yuxinou International Railway. Each container freight per kilometer decreased to 0.86 US dollars from over 1 US dollar in one year, and will see three consecutive declines of 10% in the future.
In the first half of 2012, the rapid development of Chongqing's processing trade industry which focuses on laptops has boosted the import and export growth. The total value of foreign imports and exports has reached $25.04 billion, the No.1 spot in China, with a year-on-year increase of 1.7 times.
Liangjiang New Area, as the locomotive of Chongqing's economy, is the only iconic area approved by China's State Council to explore the inland area's reform and opening up in mid-western China following Pudong New Area and Binhai New Area.
The area will be more competitive in the world as it boasts Jiangbei International Airport, the largest complex international airline hub in mid-western China and the largest shipping center in the upper reaches of the Yangtze River.
To strengthen the role of the Yuxinou Railway, Liangjiang New Area is treating Europe-oriented trade as the strategic major point of exploring the inland's opening, and is actively building the European Trade Distribution Center to cover the huge market with a population of over 300 million and an area of 6.8 million square kilometers in west China.
Liangjiang New Area has planned the construction project of the 6-square kilometer Sino-Euro Commerce and Trade Town, including a "Global Brands Center" and an Imported Products Exhibition and Trading Center.
The Euro Commodities Exhibition Center, with an area of 33,000 square meters, will be put into construction in Liangjiang New Area this year, aiming at introducing Euro commodities such as food, cosmetics, bags, garments, medical equipment, etc.
Liangjiang New Area is striving to build an area for transnational companies' regional headquarters, involving functions like R&D, brand promotion, settlement, technological innovation, etc.
Furthermore, Liangjiang New Area plans to establish a Sino-Euro Trade Demonstration Zone, a designated port for automobiles, waste metal, etc., a settlement center for cross-border e-commerce and international trade in the second half of 2012, in order to expand cooperation with Europe.