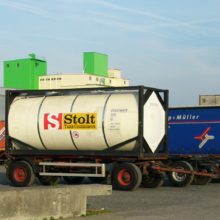 Total shipments increased to 28,995 from 27,128, while utilisation climbed to 73.1 percent from 69.3percent. STC took delivery of 156 new tanks in the quarter, raising the fleet total to 29,604 units and completing the division's previous newbuilding programme.
STC placed an order for 2,000 new tanks in the second quarter, consisting of approximately 1,750 chemical tanks and 250 food-grade tanks, with deliveries to take place between August 2012 and April 2013.
STC reported a second-quarter operating profit of $19.6 million, up from $19.2 million in the first quarter. Growth in operating income was held down in the quarter by increases in both ocean and inland freight charges of 18.1 percent and 13.5 percent respectively, driven primarily by higher fuel prices and truck-driver shortages. Repositioning costs were also up in the quarter, consistent with the overall increase in tank container demand.