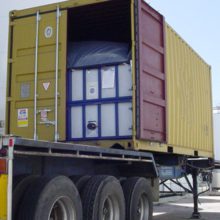 The Code of Practice consists of five parts including: material testing, container selection, container labelling, incident management and training. Until now, significant emphasis among shipping lines and flexitank operators has been placed on the rail test yet, as the direction of the Code now moves towards a Publicly Available Specification (PAS), Trans Ocean states it is essential that companies demonstrate, through independent audits, that they also comply with the other sections.
On 7 June 2012, and following a process of review, implementation and audit, Trans Ocean became the very first flexitank operator in the industry to submit all documents to the COA, including independent audit reports where required.
"This is a significant milestone, and the path leading to this achievement has been both interesting and challenging," said Brendan McKenna, Hillebrand Group Board Member. "We have made significant investments in equipment, and have amended certain of our working practices in order to comply. It has encouraged us to not only take a critical look at the way we do things, but also to create written procedures that standardise our design, manufacturing and quality process across our global engineering and manufacturing footprint leading to tangible benefits for our customers worldwide.
"At Trans Ocean, we always strive to be one step ahead," McKenna continued. "We aim to provide the safest, most reliable and most advanced flexitank systems on the market. Our on-going commitment to meet and exceed the COA Code of Practice criteria is testament to this and we are proud to announce that we are the first flexitank company to comply with all five parts of the Code of Practice in its entirety." The COA Recommended Flexitank Code of Practice is a critical and important step towards creating an international, formal and industry-wide standard.
Trans Ocean points out that its flexitank products are exclusively designed and manufactured in our its facilities in South Africa, China and Malaysia, giving the group complete care and control over equipment quality, supply and planning.