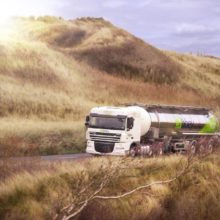 Abbey Logistics Group has won a contract renewal with AAK (Aarhus Karlshamn) to continue to transport refined oils from a production site at Hull which will see the AAK and Abbey partnership extend into 20 years.
Dave Coulson, commercial director at Abbey, said: "We are delighted to extend our contract with AAK – especially in the current market place where competition is so keen – which is testament to the levels of service Abbey has provided over the years and the excellent business relationship between the two companies. While we are on target to achieve our five-year expansion plans, we are very aware that winning new business on its own will not sustain our growth aspirations, and therefore the importance of ensuring we renew our contracts with our long term partners is critical to our future ambitions."
Andy Parker, UK supply chain manager for AAK, added: "We are happy to extend our contract with Abbey that has been in place for a number of years. Abbey is following an expansion plan that takes it into a broader offering of services and not just the traditional tanker transport of the past. Areas such as the ALG Twin Cargo are a great innovation for road transport in our industry and it is this approach that AAK is looking for with its supplier base."
Abbey now operates 210 trucks and 270 trailers from 10 UK bases.
.