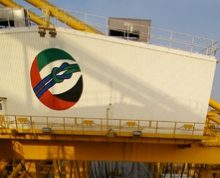 DP World Chairman Sultan Ahmed Bin Sulayem commented:
"The past six months has been a challenging period for the global economy.  Taking this into account, it is very encouraging that DP World has been able to show good profit growth across its global portfolio, led by its key markets of Africa, the Middle East and South America."
Highlights (ii)
•           Revenue increased to $1,529 million with underlying growth of 10%
•           Strong improvement in EBITDA (iii) to $672 million with underlying growth 11%
•           Profit before tax was $310 million with underlying growth of 12%
•           Net cash from operating activities of $518 million
•           Balance sheet strength maintained with leverage (net debt to EBITDA) of 2.7 times
•           Continued investment in quality long-term assets with $260 million invested during the period
In a challenging global macroeconomic environment, DP World handled 7.5% more containers than during the same period last year and outperformed industry volume growth (iv) leading to an increase in our market share.
Revenue was $1,529 million, reflecting good underlying growth of 10% as our terminals attracted higher revenue from handling more containers and a 14% increase in non-container revenue.
EBITDA  and EBITDA margin increased to $672 million and 43.9% respectively as our terminals continued to improve efficiencies and productivity for our customers.  We have invested in more efficient container handling equipment to facilitate the timely movement of goods across the global supply chain.   Productivity improvements in the first half of the year include increasing the number of box moves per ship to shore crane, improving vessel turnaround time and improving documentation processes to improve the movement of goods to and from the terminal.  These were combined with effective cost management to deliver an underlying growth in EBITDA of 11%.
Looking across our regional portfolio, the Middle East, Europe and Africa region delivered an excellent performance with an 18% improvement in EBITDA to $477 million and further improvement in EBITDA margin to 46.3%.  This reflects the strategic positioning of our terminals towards the faster growing and stronger economies in this region, mitigating weaker trade across continental Europe.
The Asia Pacific and Indian Subcontinent region reported EBITDA of $159 million in the first six months and record EBITDA margins of 68.4%.
Our terminals in the Australia and Americas region delivered a strong revenue performance in the first six months of 2012 reporting revenue of $266 million or 12% growth on an underlying basis and EBITDA of $77 million.
DP World remains highly cash generative with net cash from operations of $518 million.  This cash supports our continued investment in our global portfolio.  We remain focused on delivering the right capacity in the right locations to meet the capacity requirements of our customers who are changing trade routes and increasing the use of ultra large container ships (ULCS).
In April DP World fully repaid and cancelled its $3 billion syndicated loan facility due in October 2012 using cash balances.  DP World maintains a very healthy balance sheet and low leverage of 2.7 times.  In addition, the Company has access to additional cash resources through a new $1 billion syndicated bank loan which is currently undrawn (v).  This provides us with the flexibility to continue to invest in quality long-term assets for the future growth of our portfolio.