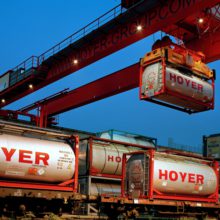 The Russian transport group FESCO operates its own railway services and port terminals, and owns a modern fleet of rail rolling stock. The new alliance will allow the two partners to offer joint intelligent logistics solutions for the petrochemical industry both within Russia and throughout the world.
Axel Brewe, Director of Business Development for Russia and Eastern Europe, is pleased to have gained such a strong partner, in the shape of FESCO, enabling HOYER to extend its areas of business in Russia.
Аlexey Grom, FESCO first vice-president for group transportation, believes the deal will bring improvements to railway infrastructure which will make it easier to offer a superior service, which is one of the keys to success for both companies.
As a result of their cooperation, HOYER and FESCO will be excellently placed in strategic terms for the growing Russian market. In addition, both companies are confident that the deal will enhance their respective positions in the market, while also offering cost benefits and extending their transport network.