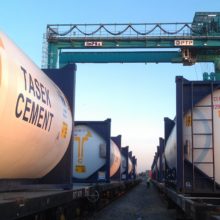 As InBulk's ISO Veyor dry bulk tankcontainer is a pressure vessel, in Australia it comes under the jurisdiction of Worksafe. ISO-Veyors are already certified by ISO 1496 (Europe), ASME VIII (USA) so registering the design under worksafe was largely an academic process.
ISO-Veyors offer increased choice for dry bulk materials, the company says. Patented and built by InBulk Technologies, ISO-Veyors are versatile, intermodal containers for effective transportation and storage. The standard H Type ISO Veyor is 20 ft and made from mild steel. It is ideal for all types of cement, limestone, ash and a wide range of minerals used within construction, mining and general materials supply.
Compared to traditional designs for dry bulk tanks, the ISO Veyor comes with a number of design improvements which provides better performance during operation, such as horizontal discharge (without need for tipping) and residues of only 0.2 percent following discharge. The ISO Veyor complies with the specifications for intermodal freight containers and can be handled and moved from one mode of transport to another like any standard shipping container across rail, road and shipping options. The design is capable of multiple discharges of powders without the need to calibrate and has a class leading payload.
ISO-Veyors are available through Ammermann Partners for the Australian and New Zealand market. Ammermann Partners equipment portfolio covers bulk materials handling, processing, storage, distribution and service for a wide range of materials supplying to industries such as cement, lime, gypsum and fly ash.
Martin Press, managing director of InBulk Technologies, commented: "We are delighted to be granted the Australian worksafe approval through our nominated partner Ammermann Partners. We have been working hard towards entering the Australian marketplace in recent times and now we want to take it forward to the next stage by meeting customers and providing trials."