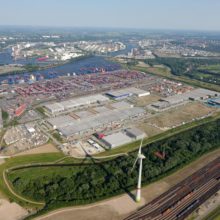 The goods will come from international production and be shipped from Hamburg to European customers. In future, several thousands, out of a total of 22,000 pallet places at the Altenwerder hazardous goods warehouse, will be allocated to Clariant. Lehnkering provides warehousing options for all common storage and water hazard classes.
The advantages of the new import centre at Hamburg-Altenwerder are clear, the two companies state. Proximity to the seaport guarantees the shortest possible follow-up times from the waterfront, which greatly increases the client's flexibility. The warehouse's modern technical equipment with direct IT system connectivity allows the most rapid communications. Lehnkering takes over from Clariant the complete co-ordination and processing of goods from the docking of ships to dispatch from the warehouse – this includes value-added services such as the repacking, labelling and picking of goods as well as customs clearance.
Clariant is already looking at other uses for the warehouse, for example, for the temporary storage of raw materials from Asia, followed by direct supply to production sites in Germany. For the time being, however, the use of the warehouse to service customers in Eastern Europe is planned as a second phase.
Uwe Willhaus, CEO of Lehnkering, commented: "In close affiliation with our parent company, Imperial Logistics International, we are providing Clariant with warehouse logistics and value-added services under one roof. Our years of experience as a specialist in chemical logistics mean we can provide customers with comprehensive and flexible warehousing and distribution solutions throughout the supply chain. Clariant will benefit from that at the new import centre to a very great extent
The new warehouse is not the first joint venture, noted Rudi Leonhardt, Clariant's group vice president for logistics and supply chain services: "Imperial Logistics and Lehnkering are increasingly becoming one of Clariant's global partners – for example, we are currently using them to implement our new logistics strategy in South Africa. Another potential joint venture will result from the development of Clariant's 'Infrapark Baselland' concept with its existing trimodal orientation in the Basel region."