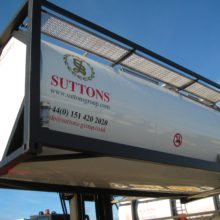 Suttons was a pioneer intermodal operator in Asia, opening an office in China in 1997. Since then, Suttons has expanded across the region and is a major operator with offices in Singapore, Shanghai, Guangzhou, Tianjin, Ningbo, Nanging, Qingdao, Mumbai and Tokyo. The company also operates a tank container storage, cleaning and maintenance depot in Shanghai's Chemical Industry Park.
Andrew Palmer, Suttons Group Managing Director, said: "We are delighted to accept @tco's invitation and to support their efforts to promote safety and raise standards of operation across Asian markets. This is a significant and growing area of our business and we are pleased to be working alongside an organisation that seeks to promote best practice throughout the industry.
Reginald Lee, president of @tco, added: "The board is pleased that Suttons International has accepted its invitation to join the organisation with immediate effect. We welcome them and look forward to their involvement in the safe handling of tank containers in Asia."
Meanwhile, Suttons has made another key appointment in Asia and the Middle East. Andrew Baird, who has been with Suttons for seven years, is taking up a new role as vice president, safety and technical, Asia and Middle East. It follows the announcement last month that Simon Bury has joined the company as vice president for Middle East Operations based in Saudi Arabia.
Both appointments are said to show the company's commitment to the regions and its proactive approach to safety management. Andrew Palmer said: "This is a key appointment in the group supporting our commitment to providing the highest levels of safety and customer service. Andrew Baird brings to this role significant experience and professional accreditation's gained through many years working in the logistics and chemicals sectors, most recently as Suttons quality safety health and environment (QSHE) director."
Baird will be based at Suttons' Singapore office, with Stephen Rowland joining the company as QSHE Manager, Europe, USA and Asia based in Widnes.