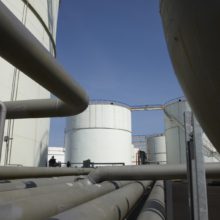 Simon's Seal Sands Terminal on England's north east coast provides a fast and convenient fuel storage and distribution hub for Harvest Energy. Harvest Energy is one of the UK's largest independent blenders and suppliers of road fuels, supplying more than 10% of the UK's motor fuel requirements through some 100 forecourt retailer customers across Britain. As well as storage for a range of road and commercial fuel grades, Simon provides Harvest Energy with specialist biofuels blending in order for it to meet the Government's Renewable Transport Fuels Obligation. A bioethanol in-line injection system is provided for Harvest Energy's unleaded and super unleaded gasoline products, while diesel and FAME (Fatty Acid Methyl Ester) are blended in-tank.
In addition to growing its downstream business, two years ago Harvest Energy took over a biodiesel production plant at Seal Sands.  Simon stores and handles raw materials for the plant, including used cooking oil, ready to meet production demand. Simon can also provide storage for tallow, another potential raw material for the production of FAME, should the customer require it.  FAME produced by the plant is then transferred by pipeline from the plant into the Terminal for use in Harvest Energy's biodiesel blending operations or for export to out-buyers.
Simon Davis, Harvest Energy's Head of Sales and Logistics, says reliable supply partners like Simon Storage are vital, particularly during these volatile times for the oil industry. He comments: "Simon's expertise in storage and handling helps us to provide products that are competitively priced, supplied and delivered with a customer-focus. The Seal Sands Terminal plays a critical role in Harvest Energy's UK-based storage and supply network and we look forward to developing new market opportunities with Simon's support."
Harvest Energy has recently announced that Trafigura, one of the world's leading international commodity brokers, has invested in the company, providing a long term financing platform enabling future growth in the UK market.
Details of the services offered by Simon Storage can be found at www.SimonStorage.com.  Harvest Energy details can be found at www.harvestenergy.co.uk.