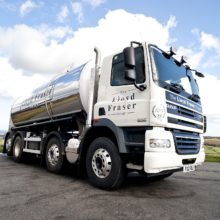 Lloyd Fraser had a number of systems in place to provide fleet management services and therefore identified a need for a single end-to-end supplier for all their contracts, one of which is Dairy Services. Following a recommendation from one of Isotrak's high profile customers, Isotrak were reviewed in 2011 and 2012 along with many other potential suppliers. A strong Transport Efficiency Analysis (TEA) ran over a number of vehicles for three months, and helped support a superior business case demonstrating that Isotrak was the best choice to satisfy Lloyd Fraser's goals of mpg improvements, fuel saving and increased fleet visibility.
Isotrak was up against two significant competitors but Lloyd Fraser recognised the vehicle tracking and telematics company's expertise in milk distribution and was impressed by their existing customer base within that sector and beyond. The telematics specialist was also noted for showing strongest willing to advance the core product, further distinguishing themselves from their contenders as the obvious choice for Lloyd Fraser.
ATMS provides enhanced, automated visibility of vehicle movement and location. This will enable Lloyd Fraser to set new standards of pro-activity in managing its operational performance and maximising the accuracy of planned deliveries.
Lloyd Fraser's transport management has previously been very administration heavy, with ETA information requested by dairy farmers and collated by calling drivers and establishing their location over the telephone.
The introduction of Isotrak's ATMS will enable Lloyd Fraser Dairy Services to manage their transport operation through a browser-accessible hosted "managed service", which interprets satellite tracking and vehicle telematics data to create business efficiency insights. These insights are based on real-time visibility and measurement of whole-fleet (and individual-vehicle) performance.
Installation is now complete, and ROI is expected within a year. Isotrak is confident it will deliver a dramatic improvement to the efficiency of Lloyd Fraser's operation, allowing them to benefit from the telematics company's extensive experience within milk distribution, enjoying significant mpg and operational improvements.
Alan Gunner, Sales & Marketing Director of Isotrak commented: 'Isotrak are pleased to use their expertise in the dairy sector to help bring benefits to another of our valued customers. We look forward to delivering significant savings and supporting Lloyd Frasier Dairy Services in their journey to a more modernised operation'
Lee Westgate, Regional Manager (South), Lloyd Fraser Milk Division added: Lloyd Fraser made the choice to implement the Isotrak ATMS system based on the quoted MPG improvements that the system could provide along with the exemplary support and customer service provided to us. This was proven via an initial trial period fully supported by the Isotrak project team throughout. We have full confidence that the system will assist in providing the projected savings in the real world operational environment whilst also bringing added benefits via the tracking and reporting suite.