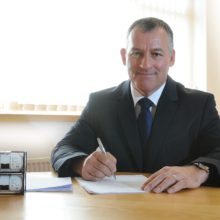 Keith Broom, joins the Company from Merlin Claims Services Group where he was Chief Financial Officer.
Prior to this, Keith spent 5 years as Chief Financial Officer at City Link Limited the UK's second largest overnight express parcels carrier.
Suttons, based in Cheshire, is one of the UK's most successful, privately owned logistics providers with revenues of £145 million and Group turnover growing by a third in the last two years.
Andrew Palmer, Group Managing Director of Suttons, said:
"Over the last 16 years Keith has been in senior finance roles at three private equity backed groups of companies where he gained experience of acquisitions and corporate transactions.
"These skills will be key to the Group as we look to build on our recent expansion in Asia and the Middle East.
"He is an extremely experienced Finance Director and his appointment will further strengthen the Board."
Keith Broom, Group Finance Director at Suttons, added:
"I'm delighted to be joining such a dynamic company which has its eye firmly on growth and expansion.
"These are exciting times for Suttons and I am looking forward to working with the board to ensure we maximise every opportunity for development."
Suttons operates globally with key business centres in Antwerp, Ludwigshafen, Houston, Kuantan, Le Havre, New Jersey, Al Jubail, Shanghai, Singapore and Tokyo.