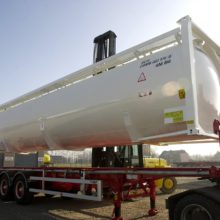 Established in 1989 and headquartered in Avignon, France, Combipass' core business is the rental of intermodal equipment for dry bulk goods such as minerals, chemicals, food products and hazardous powders. The fleet, which has now reached over 1,400 units, consists of bulk boxes, pressurised silo containers and different types of container chassis, including those that tip or contain a rotary feeder.
The team at Combipass had previously been using a system that had become outdated and took a considerable amount of manual input to control equipment and business transactions. "As the fleet grew, this manual process became more time-consuming and increasingly difficult to administer," explained Emmanuel de Maistre, managing director at Combipass. "The need for an automated system which was tailored more exactly to the container leasing business prompted us to look for an alternative supplier. RAM was an easy choice as it is so well known in the industry and is a specialist supplier to the container leasing sector," continued de Maistre.
The sales team at Combipass will use Rental4000 to gain quicker access to the status of units and to filter unit specifics much more easily. Administration time can be cut dramatically, as free days and rental penalties will no longer have to be manually calculated and adjusted for. The new system automates the most time-consuming procedures and large orders will be more manageable and easy to track.