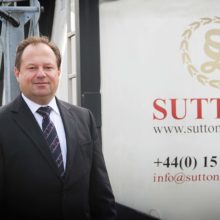 Gilles Letard has joined Suttons International from Norbert Dentressangle, where he had a variety of senior positions, most recently as Commercial Director in its road tanker division.
Andrew Palmer, Group Managing Director of Suttons, said:
"Gilles brings a wealth of commercial experience to this key role and understands the sector and its challenges.
"He has a strong track record of putting into practice high levels of compliance and safety in the area of specialist services and will greatly assist our growth in this area of our business."
Gilles Letard, Head of Commercial, Europe & Americas at Suttons said.
"I'm grateful for the opportunity to play my part in further growing the business in Europe and Americas.
"Suttons has an excellent reputation in the bulk logistics sector and I'm excited by its plans for further international growth and expansion."
Suttons operates globally with key business centres in Antwerp, Ludwigshafen, Houston, Kuantan, Le Havre, New Jersey, Al Jubail, Shanghai, Singapore and Tokyo.