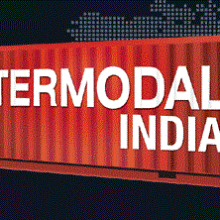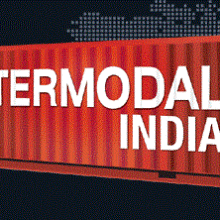 With the launch edition of its exhibition – Intermodal India, the key event for logistics professionals on September 25-27 at Bombay Convention and Exhibition Centre, UBM plans to create an excellent platform for professionals from across logistics, transportation, cargo, and freight-forwarding industries to connect, discuss and generate new business opportunities. Intermodal India's icon and role model, UBM's Intermodal South America, which will hold its 20th edition next year, has gained traction in that region and on an international scale as well. Intermodal South America is the 2nd largest exhibition in the world for logistics, cargo transport and international trade and 65% of the 45,000 qualified visitors are cargo shippers in search of new solutions, best practices and networking with the industry's key players from around the world.
By conducting Intermodal India, UBM hopes to bring a much needed forum for the sector to the growing Indian market.
Intermodal India is supported by a vast number of associations, including Journal of Commerce (JOC), Association of Multimodal Transport Operators of India (AMTOI), The Chartered Institute of Logistics & Transport India (CILT), The Container Shipping Lines Association (CSLA), The Bombay Custom House Agents' Association (BCHAA), Foreign Owners Representatives & Ship Managers' Association (FOSMA), Indian Private Ports & Terminal Association (IPTA), Mumbai and Nhava-Sheva Ship-Agents Association (MANSA), All India Association of Industries (AIAI), Consolidators Association of India and others.
This year's exhibition is set to attract 2000+ buyers from across India and abroad. There will be a multi-track conference tailored to the needs of Indian air cargo industry, sea trade and rail & road sectors. The conference will address timely and relevant topics including: effective intermodal integration, cold chain management and 3PL effectiveness and challenges and more.
Key patrons are Jawaharlal Nehru Port Trust (JNPT), Container Corporation of India (CONCOR)*, L&T*, Airport Authority of India (Cargo), Aditya Birla Group*, Bremenports GmbH, Inland Waterways Authority of India, Tuscan Port, Port Miami, Port of Virginia, Shipping Corporation of India, Deugro Projects, Forbes & Co., Mumbai Port Trust, Civil Aviation Department of Government of Gujarat, Bertling, Allcargo, R.E. Rogers, MIDAS Group, Deloitte, FreightBridge Logistics, P.S. Bedi, SAP India to name a few.
The exhibition will be inaugurated by key dignitaries from Airports Authority of India, Shipping Corporation of India, Civil Aviation Department of Government of Gujarat, Inland Waterways Authority of India, CONCOR, Railway Board, JNPT and other industry leaders.
Intermodal India is poised to be the premier logistics event for buyers and suppliers to meet, exchange ideas, create trends and generate business opportunities. Featuring a 3-day exhibition and with exhibitors who will showcase a wide array of logistics products & solutions, Intermodal India will get off to an impressive launch.
Register to attend this can't-miss event at http://www.intermodalindia.com