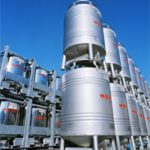 "This makes us the first IBC leasing company to offer its clients this innovative technology," explained Marlen Blechschmidt, project and tender manager for IBC business.
RFID makes it possible to identify and locate an IBC remotely and automatically collect, store and transmit digital data, for example about the location, content and condition of the container.
"This technology not only brings enormous benefits for the management of our own IBC fleet, it also enables our clients to integrate IBC status reports into their own IT processes," Blechschmidt said. "We want to minimise interfaces with our clients, which optimises processes. RFID technology is perfect for doing this." Accurate inventory control and faster information transfer are additional advantages that simplify IBC planning.
Hoyer has been preparing for the introduction of RFID since 2010. Eleven IBC depots in its European network are already equipped with hand-held readers and docking stations for transmission of data into the Hoyer IT system.
In a separate move Hoyer and Etihad Rail, the master developer and operator of the United Arab Emirates' national railway, are co-operating closely on transport of liquid products in the UAE. The two companies have signed an MoU to that effect. The agreement will see Hoyer Global Transport BV and Etihad Rail working together to develop a safe and sustainable bulk liquid transportation system across the UAE. For Hoyer Transport, the co-operation means a further expansion of its logistics portfolio in the growing Gulf countries.
"Based on our experience as a supplier of logistics services in Europe, we know the advantages of using rail as a carrier. We have chosen to work with Etihad Rail so that we can offer our customers a safer, more reliable and more ecologically sustainable mode of transport of liquid products, by rail in the UAE as we have done in our other areas of operation," said Menno Douwes Dekker, managing director of the Deep Sea Middle East & India business unit of Hoyer Global Transport.
Hoyer has been a part of Etihad Rail's commercial advisory panel for the development of the overall project since 2011. Etihad Rail is in the process of developing and operating the UAE's national rail network, a key element of the creation of a logistics hub for trade and industry in the region. The Etihad Rail network will span a total of 1,200 km across the Emirates.