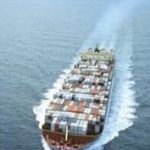 Maersk Line will continue to provide customers with a broad and competitive range of services on this trade.
"We do not expect volume growth on the Asia-Europe trades this year so there is currently no need for the number of ships sailing", says Vincent Clerc, Chief Trade & Marketing Officer for Maersk Line.
"We expect a 3% slump on the Asia-Europe container trades for 2012 and are taking steps to adjust to this without reducing our market position".
"Further to the 9% capacity reductions we made earlier this year, this brings the total capacity reduction in 2012 on Maersk Line's Asia-Europe network to 21%".
The Maersk Line AE5 service, which currently operates 8 vessels of 6500 TEU nominal capacity, will be closed with the last sailing departing Tanjung Pelepas on 8 November 2012.
The AE9 service's 11 vessels with 8000 TEU nominal capacity will be suspended immediately until early December 2012.
The capacity reduction will not affect Maersk Line's flagship product, Daily Maersk. In a recent survey conducted by Maersk Line, 42% of Daily Maersk customers saved money on logistics as a result of the added benefits of absolute reliability and transportation time the product delivers. The Daily Maersk Promise will be kept intact, supported by Maersk Line's reliable hub port setup.
Total trade volume has declined and the outlook for the economies of Europe and Asia remains weak.
Where commercially appropriate, Maersk Line will consider additional opportunities to reduce capacity and look for slow-steaming opportunities.
Asia-Europe – Service Change Highlights
Maersk Line continues to offer comprehensive coverage across Europe through its network of services.
AE20 Service will provide a premium product to the Tyrrhenian market up to 4 days faster and will add Port Said to its rotation.
AE3 Service will continue to deliver a premium product to Turkey and Black Sea market. It will also cover Turkey exports on its eastbound rotation. Izmir (Turkey) will be covered by feeders from Port Said.
AE12 will provide a very competitive product to Beirut, Lebanon while continuing its premium service to the Adriatic.
AE11 will continue to deliver a premium product to the West Mediterranean market.
No change to Maersk Line's flagship Daily Maersk product.
For more details on the specific changes to services on the Asia-Europe network, click here