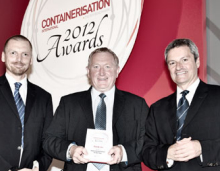 The judges were an independent panel of high profile individuals from across the maritime industry, and when announcing the award they said: "A clear winner emerged in this category with the judges referring to certain service developments by this ocean carrier as being game changers for the industry. This Line also invested heavily in its online web-based customer support activities and committed to a substantial reduction in its per TEU carried emissions levels.
The winner of the 2012 Global Ocean Carrier of the Year Award was Maersk Line for its Daily Maersk service offering and its ongoing development of eBusiness solutions."
"Award is superb endorsement"
Brian Godsafe, managing director of Maersk Line UK & Ireland collected the award on behalf of Maersk Line, in front of more than 300 senior industry executives at an event hosted by BBC television presenter Gavin Esler.
Following the presentation, Brian was interviewed briefly by Containerisation International about the award and what it meant to the company.
He commented that the award was a superb endorsement for Daily Maersk, a product which is delivering 98% on time delivery and has changed the industry and customers expectations. Ease of business is a Maersk Line priority and the improved online e business developments and our continued focus on constant care are all contributing to make us stand out from our competitors.
He was attending the awards event with several important long-standing customers and added that: "while you attend such an event hoping that Maersk Line might be successful, you certainly never take it for granted."
"An award like this is valuable acknowledgement and an important industry recognition. It feels very, very special as a result."
Tweeting
Maersk Line sponsored a so-called Twitter wall at the event, part of a campaign to raise awareness and promote our use of social media.
This is the first year that many of the industry events have such a Twitter wall. At each event, more and more industry guests and journalists are getting involved – tweeting and reporting as the events unfold.