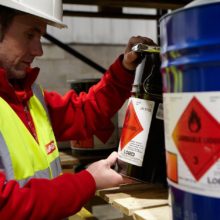 Founded in 1976, Hampshire-based Orange Chemicals supplies a wide range of mainly petrochemical-based organic chemicals to major UK manufacturers.
Formerly based at Norbert Dentressangle's Dagenham tank storage facility, under the new contract, the operation has transferred to Norbert Dentressangle's dedicated COMAH certified warehouse and drumming plant at Acton Grange near Warrington.
Norbert Dentressangle receives up to 12 tankers per month and is responsible for the discharge of mainly solvents and glycols into 1,000 litre IBCs and 210 litre drums. The company is also responsible for the sampling and testing of product to ensure that high quality standards are maintained.
John Millett, Managing Director of Orange Chemicals, said: "We recognised that Norbert Dentressangle's Acton Grange facility offered the right level of expertise and infrastructure, and will act as an excellent platform for future growth in our solvents and glycols business."
Norbert Dentressangle offers a highly flexible drumming service from its Acton Grange site. The company's investment in specialist equipment enables the efficient discharge and drumming of many hazardous and non-hazardous liquids in a clean environment under fume extraction conditions, conforming to the highest standards of health and safety and process control.
Norbert Dentressangle is one of Europe's leading providers of chemicals and hazardous goods warehousing and transport, with a network of shared-user COMAH (and SEVESO II in mainland Europe) sites, providing solutions which flex to meet changes in demand and delivery profile.
In the UK, the company provides more than 80,000 pallet spaces across six, strategically located COMAH warehouses and operates a dedicated ADR distribution network, along with storage and transport for bulk powders and liquids.
Added value services include drumming, blending, mixing, sampling, packing, recycling and safe waste disposal and IBC management.