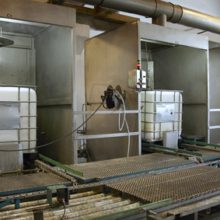 "We offer services beyond those of our competitors," stresses Volker Busch, managing partner and sales director at Resch. "That's why our speciality is the return and reconditioning of drums that would be unsuitable for reconditioning after only conventional washing and therefore re-quire a cleaning process of exceptional quality," explains Busch. "This way, we make a significant contribution towards avoiding problem scrap metal and as a result towards protecting the environment."
Functionally speaking, the thermal cleaning process is virtually unrivalled. The drums are heated over gas flames to between 600 and 850°C. During this process, all filling product residues are thermally decomposed along with all identification labels and also the inner and outer coatings. Steel grit is then used to strip all combustion residues from the drums. In subsequent stages of reconditioning, dents and other unevennesses are smoothed out. The drums are then tested for leaks, painted, given new lids and clamp rings, and returned to the economic cycle. Resch reconditions both tight-head and open-head drums, whereby tight-head drums are converted into open-head drums.
Complex technology – many benefits
However simple the method may seem, the technology behind it is all the more complex and elaborate by comparison. It comprises not least a powerful, state-of-the-art post-combustion plant, in which the contaminated exhaust air that arises during the combustion process is rendered harmless at temperatures of up to 1000°C.
A further example of Resch' commitment to sustainability and environ-mental protection is provided by the company's impressive concept for the recycling of hot exhaust air. This is used to save energy at several points around the company – among others, to preheat the drum burn-out plant, to heat the drying line in the drum coating plant and to supply energy to the IBC reconditioning unit (cleaning and inner bottle replacement). All in all, these and other measures have made it possible to cut consumption of primary energy by over 40 per cent.
The bottom line is what the Resch system has a whole string of benefits to offer its customers. At the end of the reconditioning process, for instance, they get a drum that need fear no comparison – technically or optically – with a new product and that also boasts a better life-cycle analysis and ultimately also costs less.
New state-of-the-art IBC reconditioning line
"We have made some targeted investments in recent years and brought all of our divisions bang up to date," says Michael Resch, managing partner and production manager, referring to new and highly efficient plants such as the state-of-the-art coating unit, in which the drums are coated with enamels from the full RAL palette.
"State of the art" also describes the efficient IBC reconditioning plant. It operates ecologically and economically efficiently, thus entirely satisfying Resch' high standards of sustainability. Among other things, the plant features a closed-loop waste-water system with a sealed filter system. High-pressure cleaners are used to rid steel cage and inner bottle of build-up and filling product residues.
A very special feature: "Depending on the filling goods, we can preselect individual, container-specific programmes in the cleaning bay and thus ensure the best-possible results," says Resch. The new reconditioning line is naturally also designed to replace inner bottles. If the used bottles are damaged or for other reasons no longer suitable for washing, they can be shredded and returned to the recycling process in the form of granulate.
With its products and services – from the collection of empty drums and IBCs to their reconditioning and renewed supply to the customer – Resch satisfies current market demands for top-quality, economically and environmentally sound industrial packaging. The goal is to utilise its annual capacities for approx. 600,000 drums and up to 150,000 IBCs, with the aid of modern technologies and thus to consolidate and if possible to further expand its market position.