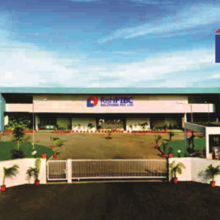 Rishi FIBC has 200,000 sq.ft fully air conditioned facility from raw material stage to finish goods godown (fully integrated) which is certified by ISO 9001:2008, ISO 22000:2005, British Retail Consortium (BRC) with 'A' grade and American Institute of Bakers (AIB) with 'Superior' grade for making food and pharma grade bags in Vadodara (North West) and a specially dedicated Container Liner facility in Mysore, near Bangalore (South India) which is also certified by ISO 22000:2005.
Company currently produces about 5 million bags and is trying to become the market leader in the food grade segment by 2015. Almost 97% of products are being exported to about 49 countries world over including Japan.
Presently Rishi FIBC supplies their products to food industry giants like Cadbury, Nestle, Kraft, British Sugar, Kelloges etc. and expanding business in this segment.
Company wants to maintain their business with their strong hold on quality control and well experienced senior management.