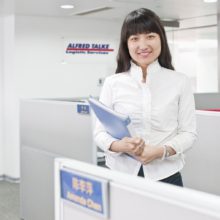 In doing so, the company acquired the shares of its former partner Kerry Logistics. "We would like to thank Kerry Logistics for their valuable cooperation in the introduction of polymer logistics services to China, and we now look forward to being able to offer our customers a wider range of TALKE services in the region," says Group Managing Director Alfred Talke.
The specialist logistics company will now also be able to support its customers locally, having established a customer service centre not far from its warehousing and handling facility in Shanghai's Waigaoqiao free trade zone. With additional sites of its own 600 km north of Shanghai in Qingdao and 1,000 km south of Shanghai in Guangzhou, TALKE is now strengthening its presence in China. The company currently has a total of nine strategically located hubs along the east coast of the country at its disposal.
At its Chinese sites, logistics specialist TALKE, based in Hürth near Cologne, primarily focuses on the provision of storage and value-added services for the chemical and petrochemical industries. Its hubs have direct access to container terminals and the company can therefore seamlessly integrate TALKE services such as packaging, refilling and customs clearance into the supply chain.